3 Liter Tin, Barbera, Frantoia Extra Virgin Olive Oil, Italian
Net Cont.: 101.4 US FL. OZ (3Lt) ea
Best by Feb 15, 2024
Product of Italy
Kosher
FRANTOIA Extra Virgin Olive Oil: 
Award winning Frantoia Extra Virgin Olive Oil is a skillful blend of Biancolilla, Agrigento, Cerasuola and Nocellara del Belice olives. This unique olive medley yields an oil with complexity and balance. Frantoia is fruity and mild on the palette, with a light peppery finish.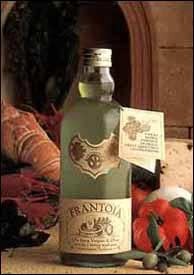 The FRANTOIA  oil is product of Italy FRANTOIA is a top-quality virgin olive oil obtained by cold extraction in traditional oil-presses.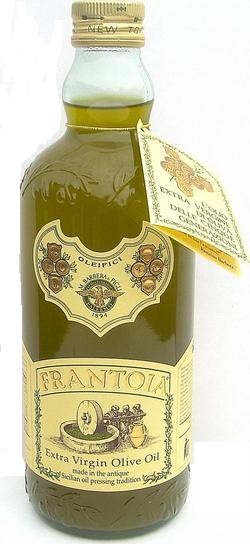 Handpicked from the trees, the olives are sent daily to the olive press, where the olives are carefully crushed by traditional granite grinders. A cold centrifuge system is used for extraction guaranteeing maximum hygiene. Tradition and advance technology are joined together in the production of this elegant full bodied gold green olive oil.
What makes FRANTOIA fine extra virgin olive oil quite different from the other oils and olive oil is its distinct personality: the typical aroma, reminiscent of fresh olives, the golden greenish color, its thin texture and rich delicate fruity flavor, loaded with olive notes and hints of herb that leave a pleasant aftertaste of sweet almonds. In order to appreciate olive oil at its best, we suggest using it raw on bread, fresh cheese, salad, vegetables, soups and all fish dishes.
The production of FRANTOIA extra Virgin olive oil is a labor of love and passion.
Abiding by traditional values yet moving with a spirit of innovation, the Barbera family obtains products of absolute integrity and superlative quality. The Barbera family has won a number of awards in the past; among these are the two gold medals from the international exhibition in Paris and the Grand Prize from the St. Louis exhibition. The most recent is the Golden Lion award, obtained at the Sol exhibition in Verona for their FRANTOIA, defined as the best balanced and harmoniously fruity extra virgin in its category.
The story of the award-winning Barbera Oil Mills began back in 1894.  Four generations later, the firm's traditional values were to be united to today's innovative spirit, while the importance of modern technology in attaining a genuine improvement in quality was held uppermost. From this family, steeped in tradition, the motto, "Unless you were born for it, you can never become a master of oil making" was to become a central theme of the firm's culture. It is this unbounded fervor and deeply felt awareness of the virtues of olive oil (it's qualities as a unique aliment have also been acclaimed by the most recent research in nutritional science), that make it possible, today, to obtain a product that keeps it authentic savor intact while maintaining the traditional flavor assured by time honored pressing technique.
Recent Barbera Frantoia awards:
2001 International Olive Oil Council, Spain, Grand Prize
2000 NASFT Fancy Food Show Product Awards, New York City, Oil and Vinegar category
1999 Sol Olive Oil Exhibition, Verona Italy, Grand
Important Information for tins:
Due to their nature, tins of olive oils (regardless of size) can potentially dent in transit; although we try to carefully package everything, there is a high probability that the packaging might be dented, in some cases to an extreme degree. This damage occurs because the aluminum nature of the tin makes it light for use, but highly susceptible to outside forces. This expected condition does not alter the quality or life of the product in any way. Please consider before ordering.